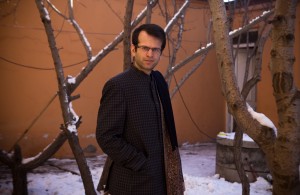 Concertmaster of Mexico's premier orchestra, the Orquesta Sinfónica Nacional, and violin faculty at the Universidad Panamericana, violinist, conductor, and composer William Harvey has appeared as violin soloist at Carnegie Hall with the New York Youth Symphony and has performed concerti with orchestras in Argentina, the Philippines, Mexico, and USA. His recording of the violin concerto by Hector Infanzón received two nominations to the Latin Grammys in 2021.
For 4 years, he served as the Violin and Viola Teacher at Afghanistan National Institute of Music (ANIM). At the request of ANIM founder, Dr. Ahmad Sarmast, he founded the Afghan Youth Orchestra, which he conducted 8 times for President Hamid Karzai and led on a historic tour of the USA that he also coordinated and for which he raised the funding. On that tour, he conducted AYO in his own arrangements at sold-out concerts at Carnegie Hall and the Kennedy Center. The tour was featured extensively in major media including the New York Times, CNN, ABC, and NBC.
In March 2012, Harvey conducted AYO on the season finale of Afghan Star, which was the most-watched TV event in Afghan history, with 15 million viewers; he did so again for the season finale in March 2013. He subsequently conducted AYO at the Royal Opera House in Muscat, Oman, in February 2014. In 2011, he was a guest judge and performer on Afghan Star. His guest appearances on this show and on the popular interview program Bamdad-e Khosh made him instantly recognizable on the street to most residents of Kabul. He also edited and arranged the Anthologies of Afghan Songs for Violin, Viola, Cello, and Double Bass, intended to supplement the pedagogy of all of those string instruments. As an experiment in audience perception, he recorded all four solo violin pieces by Elliott Carter for live audiences in Afghanistan in a project called "Playing Carter in Afghanistan."
He has previously served as concertmaster of the Orquesta Sinfónica Sinaloa Las Artes (Mexico), Orquesta Sinfónica de la Universidad Nacional de San Juan (Argentina) and the Spokane Symphony (USA), faculty at Indiana University's Summer String Academy, a Fellow at Carnegie Hall's Academy, and a guest artist at the Myanmar Music Festival (where he performed for Aung San Suu Kyi), Mehli Mehta Music Foundation (to which he was invited by Zubin Mehta), and Iguazu en Concierto (where he conducted an orchestra of hundreds of children from around the world in front of Iguazu Falls). William plays on a violin made by Joseph Curtin in 2001.
As a conductor, he has led professional orchestras throughout Mexico and youth orchestras in Argentina, Qatar, the Philippines, Zimbabwe, and the USA. Mr. Harvey's compositions have received over a hundred performances. He has performed his own violin concerto inspired by the life of Gandhi with the Princeton Symphony Orchestra (conducted by Sameer Patel) and the Santa Cruz Symphony (conducted by Daniel Stewart). Renowned soprano Susanna Phillips commissioned his song cycle based on poetry by Afghan women. His Cuerpo Garrido for solo piano won Columbia University's Bearns Prize. Mr. Harvey earned his M.M. from The Juilliard School, where he studied violin with Ronald Copes and composition with Samuel Adler, and B.M. from Indiana University Jacobs School of Music, where he studied violin with Mimi Zweig and composition with Sven-David Sandström.
In 2005, Mr. Harvey founded Cultures in Harmony (CiH). In 2010, CiH was named a Best Practice in International Cultural Engagement (along with the Kennedy Center & Library of Congress) by the US Center for Citizen Diplomacy. CiH workshops in Pakistan, Qatar, Egypt, the Philippines, Tunisia, Zimbabwe, and Mexico have benefited thousands of young musicians. Mr. Harvey has lectured about CiH at the British Parliament; at the Institute for Cultural Diplomacy in Berlin, Germany; at the Escuela Superior de Música in Mexico; at Boston University, Georgetown University, and Oberlin Conservatory in the USA; and at Aga Khan University in Karachi, Pakistan. In 2017, he gave the keynote speech at the ASTA convention in Pittsburgh.
Commercial Recordings
Videos of Concerti with Orchestra
Concerto for Violin by Johannes Brahms, Orquesta Sinfónica del Estado de Puebla, David Hernandez Breton, Mexico, February 24, 2023.
Concerto for Violin and Cello by Johannes Brahms with Theodore Harvey, cello, Filarmonica de Jalisco, José Luis Castillo, Mexico, June 16, 2022.
Concerto #5 for Violin by W. A. Mozart, Orquesta Sinfónica de Yucatán, Juan Carlos Lomónaco, Mérida, Mexico, October 2020.
"Remembranzas," Concerto for Violin by Hector Infanzón, National Symphony Orchestra (Mexico), Ludwig Carrasco, Mexico, February 2019.
Finale from Concerto for Violin by Behzad Ranjbaran, Juilliard Orchestra, Gerard Schwarz, New York City, USA, April 2006.
Videos of Conducting Performances
Concert of music by Mendelssohn, Felipe Pérez Santiago, Beethoven, and Mozart, Orquesta Sinfónica de la Universidad Autónoma del Estado de Hidalgo, Mexico, September 30, 2022.
Concert of music by Augusta Read Thomas, Vivaldi, Sibelius, Yakimenko, Lyatoshynky, National Symphony Orchestra of Mexico, Palacio de Bellas Artes, Mexico, May 8, 2022.
Serenade for Strings by Josef Suk, National Symphony Orchestra of Mexico, Palacio de Bellas Artes, Mexico, October 24, 2021
Four Seasons of Afghanistan, Afghan Youth Orchestra at the Kennedy Center, February 7, 2013
Arghawan, Afghan folk song, arr. to feature students from ANIM, a baglama player from Turkey, and a string orchestra from Turkey, France, & USA, in a 2015 performance at the Klasik Keyifler Festival at the Göreme Ceramic Museum in Turkey.
Neria, popular song by Oliver Mtukudzi, recorded with the singer himself and the orchestra of Musicamp in 2015, in Harare, Zimbabwe.
Shakoko Jan, Afghan folk song. Orchestra of hundreds of young musicians from around the world in Iguazu, Argentina, featuring ANIM's Young Afghan Traditional Ensemble, 2013.
Finale from Mozart's Jupiter Symphony, student group (including now-renowned soloist Augustin Hadelich as principal second violin), The Juilliard School, 2004.
Crossover Performances 
Raga Shyam Kalyan, with Abhishek and Murchana Adhikary, sitars, recorded for Ariana TV in Kabul, Afghanistan
Raag Bhopali, Aao Balma, and Aaj Jaane Ki Zid Na Karo, with Vishala & Kamakshi Khurana, recorded live in Mumbai, India
Out With The Old, by Zoe Viccaji, recorded in Karachi, Pakistan
Chikni Chameli, Indian film song recorded in Islamabad, Pakistan
Mawasem with musicians from Nour Project, Alexandria, Egypt
Bia ke birim ba Mazar, Afghan folk song recorded live at the ruined Darulaman Palace in Kabul, Afghanistan
Qadara Sar Koneen, Afghan popular song, and Raga Pillo in 9.5-beat version with Ustad Ramin Saqizada, rubab, and Fraidoon Myayee, tabla, recorded live in Kabul, Afghanistan
Links
Violin performances (concerti and recitals)