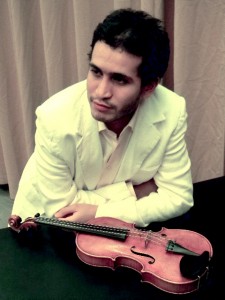 By William Harvey
On the morning of July 3, 2005, in a fragrant flower garden in a suburb of Tunis, I met a young violinist named Nidhal. I gave him a lesson on Mozart's Fourth Concerto and quickly realized that his talent deserved more than I could offer. "Do you want to pursue music?" I asked him after couscous at his family's home a few days later. He would probably have to quit violin and study engineering, he responded sadly.
At the end of the week of master classes I taught at a school in Tunis' thousand-year-old medina, I urged Nidhal to apply for next summer's Indiana University String Academy. On July 13, still jet-lagged, I gave a recital at IU, and at dinner afterwards I urged Mimi Zweig, the director of the Academy, to accept Nidhal. After teaching me for five years, Mimi deserves credit for nearly everything I am as a musician, and she promised to take my recommendation seriously.
In the spring of 2006, Mimi accepted Nidhal, and that summer, he came to the United States for the first time. He was the first African ever to attend the String Academy. The questions he received from his fellow campers were, ah, interesting: "Do you have cars yet, or do you get around on camels?" "Do you beat your chests like Tarzan in Africa?" "Are you terrorists?"
Yet after four weeks, his easy smile and affable personality had won him many friends among the scores of campers. He attended again in 2007 and 2008, rising to the top ensemble at the Academy. He applied to attend IU's Jacobs School of Music, one of the very best in the world. Three years after worrying that a lack of opportunity for musicians in Tunisia would thwart his musical dreams, would he be accepted?
He was—with one of the highest scores awarded to incoming freshmen at the auditions. Today, Nidhal is concertmaster of the Orquesta Sinfónica de la Universidad Nacional de San Juan (Argentina)—a job that I held from April 2014 to May 2015, and for which I enthusiastically recommended him.
Nidhal is just one among our dozens of Tunisian friends. Every year, we teach Tunisia's finest young violinists, cellists, and pianists. We also study and perform with oud and kanun players. As both sides come to know one another, we learn about far more than each other's music.
Amal, a young female violinist, wrote in 2008: "You've changed the image that I had about Americans because you're completely different. You're nice, kind, friendly, generous, awesome, beautiful."