Building on a Common Ground:
CiH's 10th Anniversary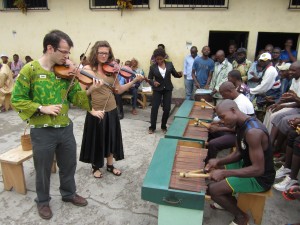 CiH musicians perform with the marimba band at the prison in Mfou, Cameroon, 2013
What unites us? What do we share across the barriers of nation and culture that appear to divide us? Are we each like unrelated melodies, occasionally blending in harmony, occasionally colliding in dissonance? Or is there something deeper and more fundamental that connects us?
In music, a passacaglia is a form in which the bass line remains constant, uniting many different variations that arise from it. In a world increasingly riven by misunderstanding, music can remind us of what we share: the fundamental desire to lead our lives in peace and with mutual respect.
For its tenth anniversary in 2015, Cultures in Harmony traveled to some of the countries where we have worked in the past to demonstrate these connections in a project inspired by the musical form of the passacaglia. Just as the variations of a passacaglia change while the bass line (also called the "ground") remains the same, people from all over the world embody a variety of differences yet share common values and aspirations.
CiH musicians worked with children, youth, and local musicians in 6 countries to create, perform, and record a composition together, using the same bass line of four descending notes:
We acknowledged donors in the following categories. 
Handel Circle
$5,000—Sponsor-A-Passacaglia 
Ty Bhojwani
Dianne McKeever and Shreyas Gupta
Biber Circle
$2,000
Pachelbel Circle
$1,000—Sponsor-A-Participant. 
Paolo M. Agostinelli
McGrae Foundation
Susan and Glenn Pratt
Variation Circle
$500—Sponsor-A-Variation. 
Ann and Larry Miller
Bette and Jim Maybury
Dorothy Thomas