The most intimate, exclusive, spectacular music festival in the world
An eagle soars 2 kilometers above the canyon floor, directly in front of your gaze. A breeze birthed a mile below your feet rushes past the cactus spines to gently ruffle the leaves of trees both near and far. The setting sun bathes mesas and mountains—stretching into the distance, a physical representation of the infinite and the sublime—painting a beguiling array of greens and blues that elevates your consciousness and calms your innermost soul. You sip a fine Mexican wine and listen to world-class classical musicians—graduates of Juilliard, the Mozarteum, and similar institutions—play Beethoven. You revel in the awe-inspiring company of one of the greatest living humanitarian-musician-poets, Romayne Wheeler, who has dedicated the last 40 years of his international piano career to helping the Rarámuri indigenous group…as you look forward to tomorrow's traditional Rarámuri celebration involving dances and folk violin playing, a party at which you will be one of the few non-Rarámuri guests ever invited. But above all, you are here—now—in the present, impossibly high above the vast panorama of Batopilas Canyon, one of the most majestic and serene landscapes on earth.
This is the Festival of the Sierra Tarahumara.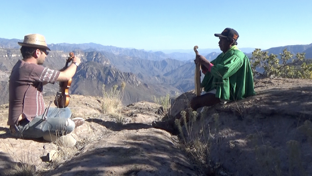 First Edition
The first edition of the festival occurred from November 20 to 24, 2021, with a local and live stream audience. Please enjoy the following performances:
Cuaderno de Viaje I (2002) by Mario Lavista (1943-2021), played by William Harvey, viola
At a Lookout and The Deer, Rarámuri folk songs, played by Porfirio Cubesare, violin
Sarabande from Suite in C Major by J. S. Bach (1685-1750), played by William Harvey, viola
Silent Moon (2006) by Augusta Read Thomas (b. 1964), played by Fernanda Villalvazo, violin, and William Harvey, viola
Blue Sky and Old Shoe, Rarámuri folk songs, played by Sebastian Gutierrez, violin
Deer Dance (Rarámuri folk song) played by Romayne Wheeler, piano
Grand Duo (after Sonata No. 3 for Violin and Piano) by Johannes Brahms (1833-1897), played by Fernanda Villalvazo, violin, and William Harvey, viola
Second Edition
Background
By 1980, the American pianist Romayne Wheeler had grown tired of constant international travel. As a composer and musicologist, he was interested in meeting Rarámuri musicians and began to come from Austria two months a year to live in a cave in the Sierra Tarahumara. So, in 1992, he decided to move to a Rarámuri community in a place that has 500 families scattered both on the mesas and in the ravines. There he founded "Romayne Wheeler A.C. El Pianista de la Sierra Rarámuri," a non-profit that provides medical and educational aid to the Rarámuri and supports them with water collection, sustainable development, and family gardens.
Cultures in Harmony, a US-based NGO founded by the Juilliard graduate William Harvey in 2005, has conducted over 40 cultural diplomacy projects in over 16 countries. The organization first became aware of Mr. Wheeler's work in 2019 and then conducted a project in partnership with him, funded by the US Consulate in Ciudad Juárez, in 2021. That project brought musical and medical supplies to the community. This festival grew out of that project, which was depicted in this beautiful documentary.
"The week I spent with Romayne was life-changing. A few days in the Sierra Tarahumara are more transformative and calming than a year of therapy. Having traveled from Afghanistan to Zimbabwe, I can confirm that no site in the world is this spectacular. I invite you to join Romayne, myself, and the musicians to experience great music, great company, and a unique culture in paradise." —William Harvey