During their first time in power (1996-2001) in Afghanistan, the Taliban were infamous worldwide for their treatment of women and their prohibition of music. Since the fall of Kabul on August 15, 2021, hundreds of musicians fear for their lives. Will their instruments be destroyed? Will they be killed, like folk singer Fawad Andarabi on August 31, 2021?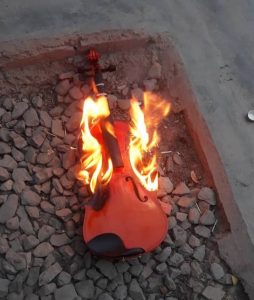 Encouraged by the first few years in which music was again legal in his country, Dr. Ahmad Sarmast founded Afghanistan National Institute of Music (ANIM) in 2010 as part of the Ministry of Education of the Islamic Republic of Afghanistan, with funding from the World Bank, German Embassy, and other institutions. CiH founder William Harvey taught violin at ANIM from 2010 to 2014. Inundated with messages after August 15, they agreed that Dr. Sarmast would focus on the evacuation of the ANIM community; he has now evacuated the entire ANIM community to Portugal. Meanwhile, William agreed with CiH would focus on helping 326 non-ANIM musicians and their families.
For the short-term, the priority is the musicians' survival (in view of Taliban mismanagement of the Afghan economy), followed by the musicians' safe exit from the country. For the long-term, CiH is working to arrange educational opportunities in the USA, Mexico, Italy, and Germany, and more. Among the partners: Vecchi-Tonelli Conservatory in Modena, Italy; Universität der Künste in Berlin, Germany; Nyack College and Indiana University in the USA. Your donation to CiH will support the exit from Afghanistan of musicians to the nearest available country, as well as some of the costs associated with long-term options ranging from educational opportunities to humanitarian parole to asylum.
Achievements so far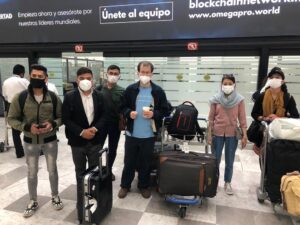 In collaboration with Professor Mario Sollazzo, we brought one Afghan musician to Italy, where he will study guitar at the Vecchi Tonelli school in Modena beginning November 1, 2022.
In collaboration with Proyecto Habesha, we brought six Afghans (five of whom are musicians) to Mexico. They arrived on April 29, 2022 (arrival pictured above), and are on track to become Mexican citizens. Reforma wrote this article and this interview. More media coverage in 24 horas and Milenio.
We helped arrange and pay for the attendance of Said Mehran Fanous at Indiana University Jacobs School of Music, where, since January 2022, he is studying violin with Mimi Zweig. IU wrote this story about his arrival.
We helped arrange and pay for the attendance of Ms. FZ at Nyack College, where she is studying with Dr. Marta Bedkowska-Reilly, who also worked tirelessly towards this achievement.
We helped one guitarist get to Pakistan, from where he has since been able to get to Canada.
We have disbursed over $10,000 in small grants (from $100 to $500) to over 20 Afghan musicians to facilitate their survival.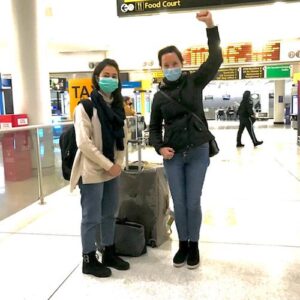 History of CiH in Afghanistan
In 2010, CiH Founder William Harvey started teaching at ANIM; he would remain on faculty there for 4 years. In that same year, CiH sent pianist and oboist Allegra Boggess to Kabul for a two-week residency at ANIM; she would later serve on ANIM faculty from 2011 to 2016. In 2013, CiH helped bring violinist and conductor Joel Schut to ANIM for 7 weeks of teaching; his trip was underwritten with additional funding from the US Embassy in Kabul. Later in 2013, CiH brought cellist Theodore Harvey to ANIM for a week of teaching and a concert.